Doctor of Osteopathy (DO) and Medical Doctor (MD)
Physicians are educated and trained on how to diagnose and treat human disease. Public health professionals assess factors affecting health, critique and apply research findings and, in turn, develop strategies and implement various measures to promote health and prevent disease.
Thus, integrated education and training toward the DO and MPH degrees or MD and MPH degrees complement and enhance each other and provide health care professionals with a greater understanding of health issues and better tools to understand and prevent human diseases.
Students interested in dual enrollment must apply to the College of Human Medicine (CHM) or the College of Osteopathic Medicine (COM) AND submit an application for graduate study for the Master of Public Health. A description of the application process can be found on our Apply Now page. Each applicant is evaluated independently by both CHM or COM and the Master of Public Health admissions committees.
Students interested in learning more may contact the MPH academic office at (810) 600-5601 or mph_generalinformation@hc.msu.edu.
Doctor of Osteopathy
If accepted by the medical college and the MPH, the student has two options for dual enrollment.
- Option A: complete the MPH coursework prior to beginning medical school, delaying matriculation by one year.
- Option B: complete two years of medical school followed by a gap year from medical school to complete the MPH coursework prior to resuming medical school studies
With either option, students work with their COM advisor and their MPH advisor to develop a curriculum plan that supports their studies in both areas. Dually enrolled students complete the Culminating Experience portion of their MPH course work during an elective clerkship at the end of their COM studies.
Please see sample curriculum plans below. Please note: these are just examples. Actual curriculum plans may vary.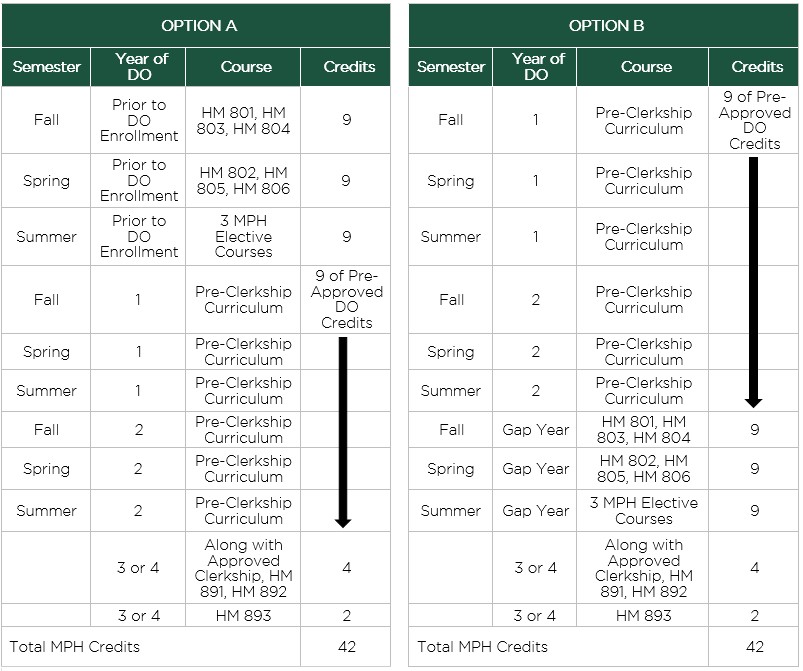 Medical Doctor
If accepted by the medical college, students must complete their MPH course work prior to matriculating into their medical program. Students are allowed to dual-count five credits of HM 552 and four credits of HM 553 to satisfy nine of the eighteen-credit elective requirement for the MPH. Due to the rigor and timeline of the Shared Discovery Curriculum, students who have been admitted to the MD program under the Shared Discovery Curriculum must complete their MPH coursework in accordance with the curriculum plan below, prior to beginning their MD coursework.
Please see the curriculum plan below.
Doctor of Veterinary Medicine (DVM)
The MPH degree is the preferred degree for those interested in working in local, state, federal and international public health agencies such as the Michigan Department of Community Health, the Centers for Disease Control and Prevention, the Food and Drug Administration, the World Health Organization, and United States Department of Agriculture. Students interested in public health are usually active in the MSU One Health initiative, which is a very active and supportive learning cohort of students with a deep interest in public health. Most dually enrolled students take MPH courses during the summers after their first and second years of veterinary school. However, it is a great idea to start taking MPH courses in the summer before veterinary school, which generally means that both the DVM and MPH degrees can be completed at about the same time. Students will want to have their six required MPH courses completed before they enter their last year and a half of veterinary school. This will allow them to take a clerkship that will meet requirements for their DVM program as well as their MPH practicum requirement. The MPH program accepts nine transfer credits from the DVM program. Students who take HM 803 and HM 864 in the MPH program have typically been excused from taking VM 544 and VM 533 during their third semester of veterinary school, thereby freeing up time that semester to take a couple of MPH courses without additional tuition charges. A student who wants to start taking MPH courses the summer before veterinary school will need to apply immediately to the MPH program after being accepted to the DVM program, because the application deadline for the MPH program is the end of February. For more information, please contact Dr. Paul Bartlett or the MPH academic office.
Master of Social Work
For additional information on this degree please visit the School of Social Work website.
Master of Science in Food Safety
For additional information on this degree, please visit the MS Food Safety Curriculum page.